Looking back at 2021, we wanted to take a moment to highlight the accomplishments of our incredible team here at TuSimple. There is much to celebrate from the work that each and every member of our team contributed to position our company as a leader in the autonomous trucking industry.
There is no denying that it has been a difficult year. The pandemic has exacted a terrible human toll on our society and it has caused disruptions, both in our supply chains and also in our day to day work. Despite this, our team has proven that we can continue to excel and make progress in our technology and operations with unwavering determination, an innovative mindset and a commitment to collaboration.
On April 15th, 2021, we became the first autonomous driving company to go public, adding to our growing list of industry firsts. We achieved this through a traditional IPO, a process that requires more vetting than alternative paths to public markets. The ~$1 billion of growth capital we raised through our IPO provided us with a substantial runway to focus on our technology, commercial operations and people that we believe will enable us to continue our industry leadership in autonomous trucking.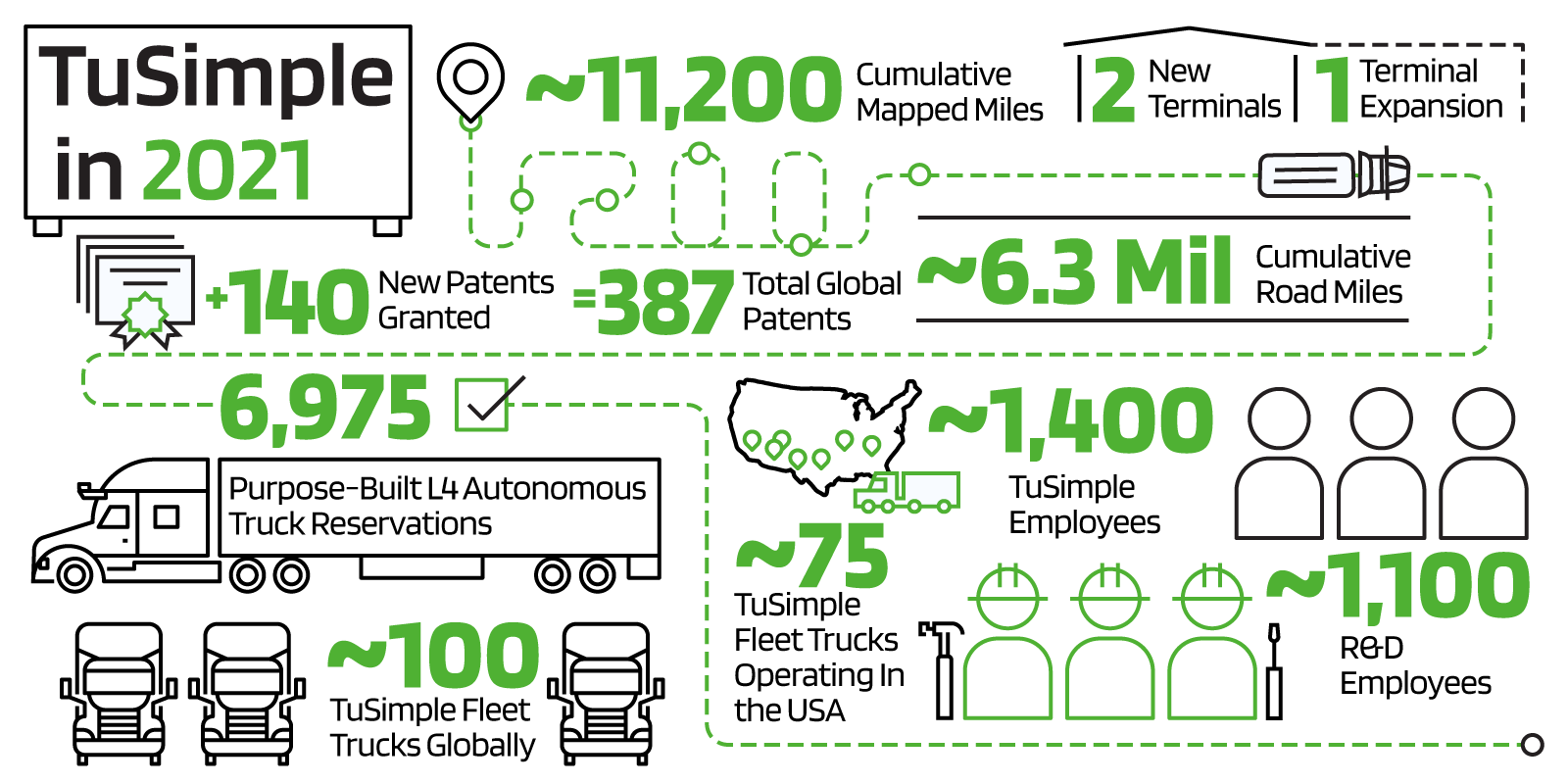 Our Technology Leadership
TuSimple has Entered the Driver-Out Era: In late 2021, TuSimple completed the world's first fully driverless semi-truck run on open public roads – a massive achievement for TuSimple and a huge milestone for the industry. To date, we have completed seven fully Driver Out semi-truck runs on open public roads, covering both surface streets and highways. We have always prided ourselves in setting firsts for autonomous trucking, but this milestone stands alone. Driver-out operations is a critical and must-have step for any autonomous trucking company to commercialize, and at TuSimple the Driver Out era has already arrived.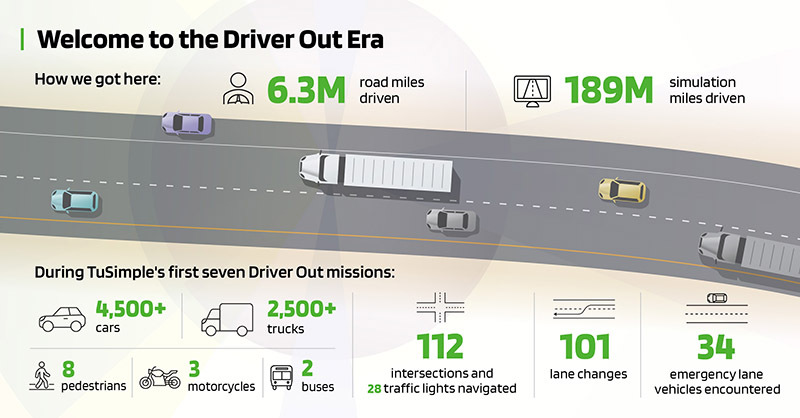 Most importantly, Driver Out is not an endpoint. It represents a zero to one moment and that we are feature complete, which means our autonomous driving system has all of the capabilities required for true Driver-out operations along a commercial route, and it is able to safely mitigate all of the edge cases during operations. From here, we plan to begin scaling towards commercialization. We are extending our Driver Out operations from a pilot to an ongoing program that we expect to expand in scope and scale beginning with our recent announcement to haul driver out freight for Union Pacific this spring.
Completing Driver Out runs also required that we define and complete an extensive Driver Out Safety Framework. At TuSimple, our approach to safety is holistic, spanning across our technology, processes, organization and operations.
In addition to becoming the first to successfully operate a driver out, fully autonomous semi-truck on open public roads, we are also extremely proud of the 138 new patents issued to TuSimple throughout 2021. This brings our total patents issued to 387 at the end of 2021 and further extends our lead in autonomous trucking patents.
To date, we have driven ~6.3 million cumulative road miles in our AV-enabled trucks and achieved ~11,200 miles of mapped routes.
Our Leadership and Commitment to Safety: Improving safety is one of the most important potential benefits of autonomous technology. During Q3 2021, we released the initial results of a safety-performance study by Geotab, a global leader in IoT and connected transportation. The initial results of the study based on 80,000 autonomous miles driven by TuSimple's autonomous trucks indicate that TuSimple's autonomous technology helps significantly reduce harsh driving events per 10,000 miles that lead to accidents.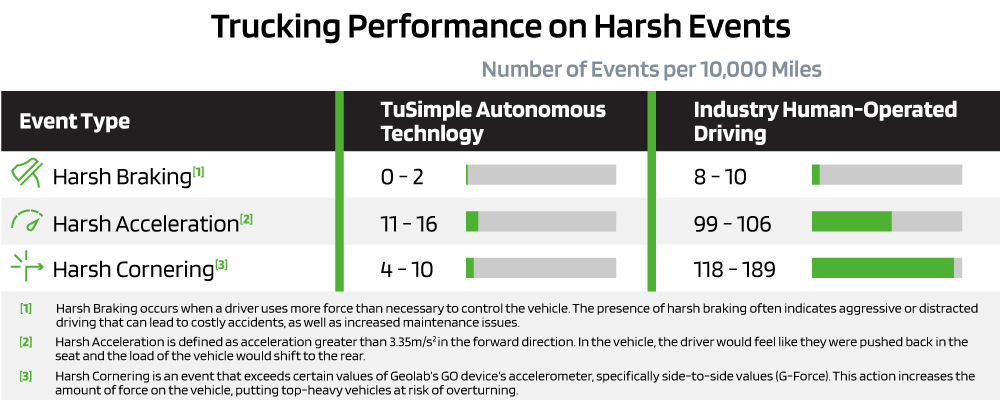 This study adds to our growing data set supporting the broad-based benefits of our L4 technology, including fuel savings, and now, a third-party study indicating significant reductions in harsh cornering, braking, and acceleration events. The results support our strong belief that autonomous vehicles will improve overall road safety and potentially reduce the number of road accidents.
Our Operational Footprint and Commercial Growth
In the past year, we scaled our Autonomous Freight Network (AFN) significantly to both meet rising demand and accelerate our growth. We opened two new terminals in Dallas, TX and Alliance Fort Worth, TX and are also in the process of completing significant expansion to our Tucson terminal.
In addition to expanding our terminal footprint, TuSimple has also expanded the reach of our Autonomous Freight Network operations all the way to the East Coast. In 2021, we expanded our routes to connect the I-10 all the way to Florida, the I-20 to Charlotte and the I-30 to Memphis, while also completing runs within the Texas Triangle.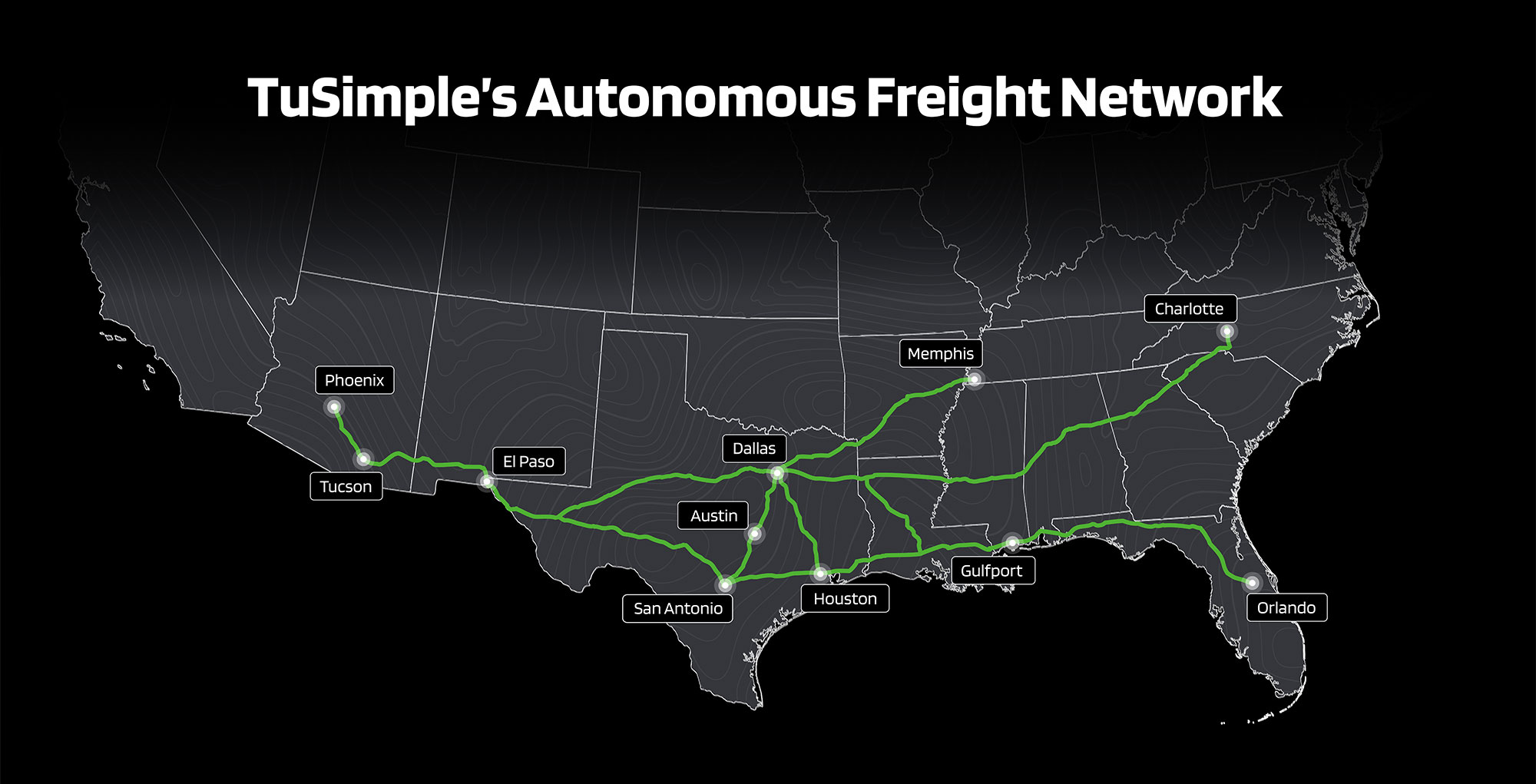 We have leveraged key partnerships to expedite the expansion of our Autonomous Freight Network, readying us to commence autonomous commercial runs across the United States.
In July 2021, we announced a partnership with Ryder to leverage Ryder's broad network of full-service terminals by securing dedicated space within the terminals to launch our autonomous trucks. We are excited about the potential this partnership brings to expand our AFN and complement our network with terminals, maintenance centers, roadside assistance, fueling capabilities, truck leasing and more.
In November 2021, we announced more details about our long-standing partnership with UPS Supply Chain Solutions. As part of this partnership, we have completed over 160,000 autonomous miles of paid freight haulage over the last two-and-a-half years for UPS North American Air Freight (NAAF) services. We also announced that we have expanded our AFN ahead of schedule to the east coast to reach UPS NAAF terminals in Orlando and Charlotte. We believe our operations with NAAF represents the world's most significant and extensive autonomous freight operation and partnership and is an indication of the huge potential for commercial deployment of our L4 technology.

Additionally, our NAAF autonomous operations demonstrated that our autonomous driver delivered over 13% fuel savings compared to human drivers when operated in the optimal long-haul operating band from 55 to 68 miles per hour. By testing our system over 160,000 miles in real-world conditions, we have been able to validate the substantial fuel savings that we observed in our 2019 study with the University of California San Diego. To date, we believe we are the only company in the autonomous trucking industry with empirical data to prove our fuel efficiency and therefore, increased sustainability. We believe the environmental and cost savings impacts of our system's enhanced fuel efficiency and sustainability will be highly attractive to shippers and carriers, highly relevant to the regulatory community, and will ultimately be a significant factor in the industry's adoption of our technology.
In December 2021 we announced our strategic collaboration with DHL as they began daily manual freight haul operations utilizing our San Antonio to Dallas AFN route. In addition, DHL has also reserved 100 autonomous trucks being co-developed by TuSimple and Navistar in the U.S. To date, we have received 7,325 reservations for our purpose-built, L4 autonomous truck from industry-leading blue-chip customers including DHL, Penske, Schneider and US. Xpress.
Our People
In the past year, we grew our world-class team to approximately 1,400 employees globally. Hiring of our engineering and technical talent increased throughout the year as we prepared to scale our Driver Out operations and expand our AFN. We continued to add world-class talent in multiple areas including artificial intelligence, software engineering and automotive. We believe that adding leading technical talent, including many new hires with significant experience managing large technology teams, will help us make our autonomous trucking technology more robust and scalable as we push towards commercialization.
As we enter 2022, I am incredibly optimistic about what we can accomplish as we build on our strong momentum. We intend to continue to be at the forefront of innovation with our industry-leading autonomous driving technology, world-class hardware partnerships, scalable go-to-market strategy and best-in-class talent and operations. Looking forward, we remain steadfast in our vision and mission to bring the most safe, fuel-efficient and low-cost freight capacity to market.
Posted by TuSimple