As TuSimple looks to commercialize its technology, we are excited to work with partners in multiple industries where autonomous technology and TuSimple's Autonomous Freight Network (AFN) can provide the greatest impact. We are kicking off a new blog series to feature different autonomous use cases and the associated benefits for these applications. We are going to start with the Food Industry where we have gained valuable experience working with our partners including McLane (a supply chain service leader for food and grocery), Giumarra (a produce marketing company supporting over 2,000 growers), and the Arizona Food Bank.
It comes as no surprise that the food industry is near the top of our list. The pandemic was a challenging year for logistics as illustrated by the images of long food bank lines filling our media feeds. These images are even more sobering when you realize that 30% – 40% of our food ends up in the landfill and 14% of produce shipments get rejected. At TuSimple, we believe that there is a huge opportunity for autonomous trucking technology to mitigate these problems and provide needed benefits to the food industry as a whole.
Overview of the Food System Value Chain

Approximately
10 – 100 miles
Local Delivery
Grower

Can be over
900 miles
Middle Mile
Processor

Typically within
250 miles
Local Delivery
Distribution Center

Retailer
The food system has a complex value chain with multiple stakeholders. The above diagram synthesizes the overall process that our customer's produce travels through before arriving in stores. We'd like to talk about the stages and their respective challenges, and discuss how autonomous transportation in the middle mile can address these issues.
As the name suggests, a Grower is responsible for harvesting produce and bringing goods to the market, typically through intermediaries. Once loaded up, the truck transports the cargo to a nearby processing plant where the produce is aggregated into pallets for the next leg of the journey. After the processing plant, freight is typically sent to a distribution center where it is then assigned to trucks for local delivery to a nearby retail center. Upon arrival the food is placed on shelves for the end consumer to select for purchase. Each step in the value chain faces its own challenges causing food to be discarded. Please refer to Figure 1: Industry Background below for additional information on the challenges facing each of these stakeholders.
TuSimple's Experience with Industry Leaders Showcases the AFN's Benefits for Food
TuSimple believes that autonomous trucks have the potential to solve challenges facing the food space. As such, we have been collaborating with stakeholders across the industry for the past several years and are proud to have delivered over 90 loads of produce to the Arizona Food Bank since 2018.
McLane has been a long standing partner of ours and is excited about the potential for TuSimple's autonomous trucks to help address driver staffing shortages in their supply chain. As such, we have started with shuttle runs between Phoenix and El Paso, and continue to identify opportunities to expand across the country.
Most recently, we worked with Giumarra and the Associated Wholesale Grocers to validate the benefit of autonomy for middle-mile applications by reducing the time for a middle mile load by 42%. Doing so allowed AWG to more effectively distribute fresh food to locally-owned grocery stores across the state. By being able to extend the shelf life of produce and reduce prices, we can provide greater access to healthier food in communities located in "food deserts" and thereby improve the overall health of the community.

"Working with TuSimple has shown us how autonomous trucks significantly reduce transportation costs and expedite shipping times. Across the supply chain, our growers and retail partners are enthusiastic about the opportunities this technology will bring to our business. On the retail side, communities will receive high quality, more affordable produce. For growers, the reduced transportation costs will allow them to focus more resources on growing great-tasting fruit and vegetable varieties for consumers. Everyone benefits and consumers will enjoy fresher, faster produce from farm to fork."
Through working with our industry partners, we have become increasingly excited by the prospect of TuSimple's technology to provide various benefits to the Food Industry:
Safer Supply Chain: Autonomous trucks do not get tired or get distracted. By automating the long "middle mile" between processing plants and distribution centers, autonomous trucks can help reduce the over 5,000 annual deaths that occur from truck accidents. Additionally, the sensor data in autonomous trucks can expedite accident disputes by providing accurate records of accidents. In total this would be a net win for our communities and trucking companies.
Increased Capacity: Since autonomous trucks are not subject to hours of service restrictions, the technology can focus on delivering the food fresh with higher asset utilization and less friction from farm to table. This will lead to less waste and fresher produce on our shelves.
More Sustainable: We believe increasing freight capacity will reduce the amount of food that expires in the supply chain and become waste. In addition to less waste, autonomous trucks can help

Reduce GHG emissions by up to 5% by removing food waste
Reduce amount of water needed for production since less resources are needed to provide adequate supply of food
Reduce transportation fuel consumption by 10% with more efficient driving

Lower Cost: This is typically the first benefit that comes to mind as automating parts of the transportation value chain will reduce the need for drivers, thereby significantly reducing the transportation cost per mile while offsetting the driver shortage. Partners in the industry identify opportunities to pass these savings along to consumers and growers as retailers are able to charge lower prices.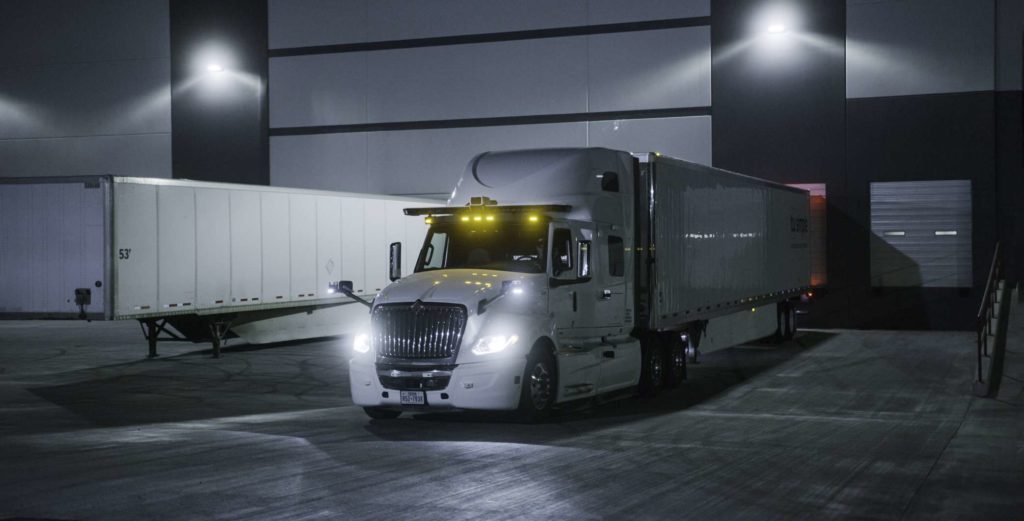 We believe the opportunity for autonomous trucks to benefit farmers, corporations, and consumers across the food system is significant. We are excited to continue developing transportation that is safer, cheaper, and more reliable for this critical function of society.
Figure 1: Industry Background

Growers
Growers must be mindful of how the selling price of produce compares to the cost of harvest and transport. If the selling price drops below the cost, then the growers may refrain from harvesting their produce. As rising labor costs drive increasing expenses for growers, we imagine there will be a higher cost threshold to overcome before harvest can begin. During the beginning of the pandemic, domestic growers faced $1.3 billion in losses in three-months alone due to difficulty in matching produce supply and demand. As our produce leaves the farm, capacity challenges due to labor constraints become more apparent.

Processor
Processing plants experience limited capacity for outbound freight to the distribution center. This is largely due to an industry wide driver shortage. Given this shortage, the food industry would need to pay a premium price in the spot market for additional capacity, or risk discarding food for the landfill if it waits too long to be shipped. The labor shortages onsite and in the transportation sector have contributed to the 2 billion pounds of food wasted in the processing or manufacturing stage.

Distribution Center
Distribution centers may receive food that doesn't meet their quality standards. About 2 – 5% of shipments are rejected by food buyers today due to these concerns. As some distribution centers are over 500 miles away, teams of multiple drivers may be needed to deliver food while it's still fresh. This is because Department of Transportation safety regulations specify the permitted operating hours of commercial drivers. Utilizing multiple drivers per truck enables processing plants to deliver cargo within 1 day that would require two days otherwise. With this expedited delivery time, the transportation cost per mile can increase by over 15% (based on industry research) which is eventually passed on to the end consumer. The food system is willing to incur this additional cost because the reduced transportation time leads to increased shelf life and freshness – a significant value proposition for retailers aiming to provide great customer experiences.

Retailer
Leading retailers are expanding their offerings to include groceries and delivery services as consumers want fresher produce faster. This leaves retailers needing to focus on the freshness and volume of produce on shelves to provide a better customer experience. It's a difficult balancing act as too much volume can cause "inventory shrink" which results in food waste as well as lost profits.
Although the United States has an impressive food ecosystem, its supply chain still faces problems associated with higher transportation costs, limited trucking capacity, and sustainability concerns derived from resource consumption and food waste.
Posted by TuSimple