On June 30, in partnership with Louisiana's Community and Technical Colleges System ("LCTCS"), we organized a day-long deep dive and demo day of our Autonomous Trucking technology at the McKay Automotive Training Center located in Baton Rouge Community College's Ardendale campus. Our event brought together statewide stakeholders to discuss TuSimple's history and vision, the impact of artificial intelligence on education and training programs, and the future of the transportation industry in Louisiana.
Additionally, we announced a collaboration to launch a training course in artificial intelligence. Students at LCTCS – who are pursuing careers in IT, business, and commercial vehicle operations – will be able to specialize in areas that complement the unique needs of the transportation industry in Louisiana.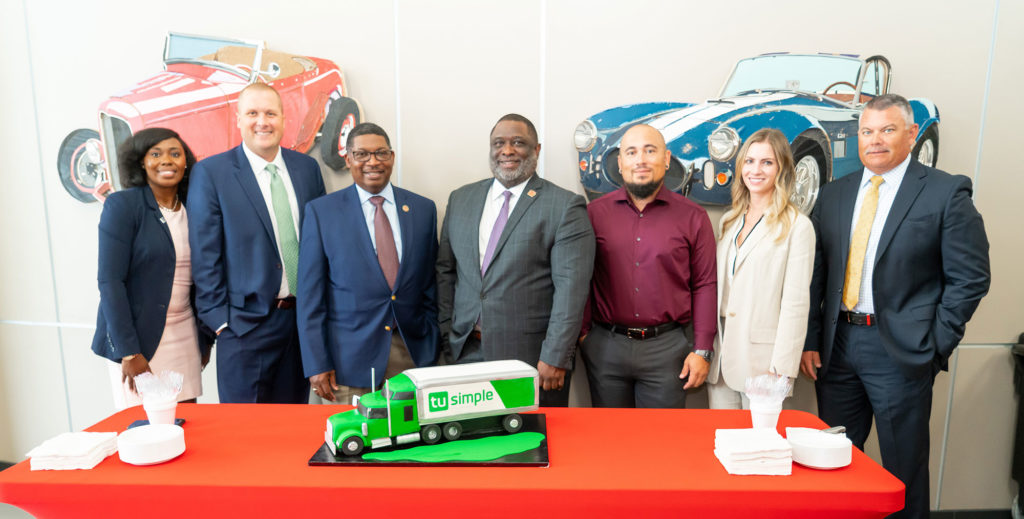 ---
Pictured, left to right: Tiffany Howard, Director of Transportation and Logistics Programs at LCTCS; Robert Brown, Senior Director of External Affairs at TuSimple; Secretary Shawn Wilson, Louisiana Department of Transportation; Dr. Willie E. Smith, Chancellor of BRCC; Robert Nall, Fleet Operations Supervisor at TuSimple; Lauren Harper, Corporate Development and Strategy Associate at TuSimple; and Gary McCarthy, Sr. Manager of Fleet Safety and Law Enforcement at TuSimple. The greatest self-driving cake truck ever made!
Creating Opportunities for Jobs in Technology
"Our community and technical colleges are responsible for meeting Louisiana's workforce needs," said LCTCS President Dr. Monty Sullivan, who attended the event. "One of the things that all of us recognize is the need for more CDL licensed drivers, but what we are also responsible for is looking over the horizon at new technology and how we can bring opportunities for places just like Baton Rouge Community College to convene that next-level technology."
Congressman Troy A. Carter, Sr., who sits on the House Transportation and Infrastructure Committee, was also among the many interested public officials at the demo day. "I would like to thank TuSimple for partnering with LCTCS to bring the training necessary to repair autonomous vehicles to Louisiana," said Congressman Carter, Sr. "This will ensure that our students are prepared when these cutting edge job opportunities arise."
This event represents a continuation of our efforts to educate and prepare constituencies for the future of autonomous transportation. In September 2019, we partnered with Pima Community College in Tucson, Arizona in launching the first-ever autonomous vehicle certification program. The program equips truck drivers with the knowledge and skills to operate autonomous trucks. A study conducted by the US Department of Transportation found that Autonomous Trucks may potentially generate approx. 30,750 jobs per year, spur $111 billion in investment spending, raise annual earnings by $200 per worker, and increase GDP by more than $68 billion over 30 years.
Autonomous trucks are expected to support American economic growth, enhance and transform freight transportation, and create new opportunities not previously contemplated. As one of the leaders in the autonomous trucking space, we are working closely with communities to develop the expertise needed for Autonomous Trucking operations.
Autonomous Freight Network (AFN) Expansion
We plan to begin conducting routes in Louisiana in the near future in collaboration with state and local partners and with our Autonomous Freight Network ("AFN") partners. These efforts allow us to continue to make Autonomous Trucking a reality through the buildout of our AFN network. Recently, we established a new hub at AllianceTexas' Mobility Innovation Zone in North Texas which allows us to set up routes to San Antonio and Houston, creating the first logistics hub in the state. Over the near-term, our expansion plans for the AFN will stretch east towards Florida.
Our event with LCTCS marked the beginning of the development of these stakeholder relationships and created an open dialogue on how we can address concerns about workforce and safety factors in the Southeast corridor, one of the U.S.'s most important corridors along Interstate 10 ("I-10").
Importance of Southeast Corridor
Truck freight volumes in the U.S. are concentrated along a small number of corridors with nearly 80% of truck freight goods moved via 10% of the nation's corridors. The I-10 corridor, pictured below, is a critical east-to-west all weather transcontinental highway that connects Santa Monia, California with Jacksonville, Florida. The I-10 Freight Corridor Study estimated the economic impact of freight moving along the I-10 Corridor at $1.38 trillion annually.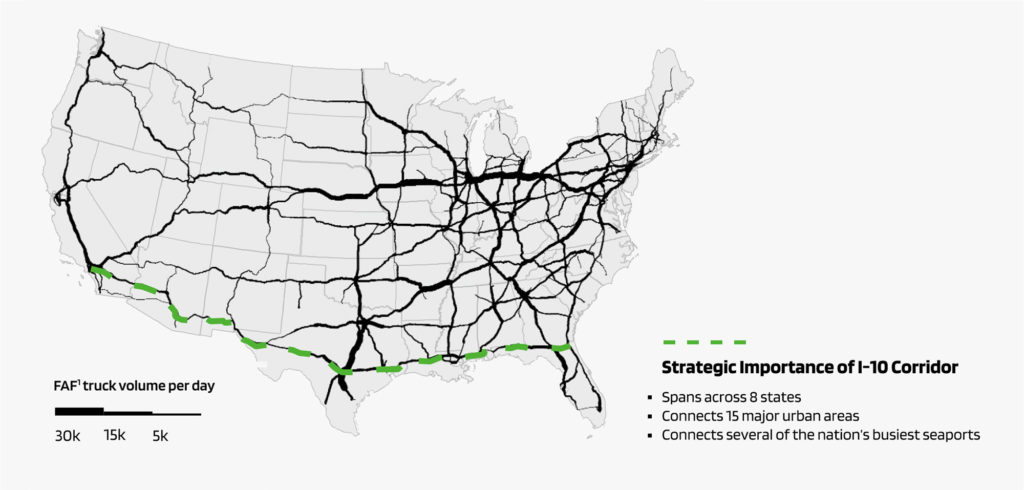 In Louisiana, located on the Southeast portion of the I-10 corridor, the freight transportation industry is a key driver of the state's economy. The movement of goods accounts for about 50% of total gross state product in a given year due to the high concentration of industries that are freight-intensive. According to the Louisiana Department of Transportation, trucking accounts for 58% of the tonnage moved and approximately 46% of the freight value moved in the state. Truck-borne freight is also projected to grow 58% by 2038, increasing the importance of workforce readiness. By working together with LCTCS, we can build upon both workforce and business needs in preparation for the future.
About the Louisiana Community and Technical College System
The Louisiana Community and Technical College System ("LCTCS") provides strategic management and support for Louisiana's 12 community and technical colleges. LCTCS colleges award associates degrees, technical diplomas, and industry-based certificates in programs aligned with business and industry and local economies, which lead students to good in-demand, high-wage jobs.
Sources:
Posted by TuSimple