Drivers play an essential role in TuSimple's mission to make autonomous trucks safer, more efficient, and environmentally friendly. This week marks National Truck Driver Appreciation Week, an annual celebration of the hardworking drivers who deliver our nation's goods. At TuSimple, we want to thank all our drivers who work tirelessly to test drive our trucks as we work towards our goal of demonstrating full Level 4 (L4) autonomous commercial capabilities this year using our retrofitted trucks, and as we continue to make progress towards delivering our purpose-built L4 autonomous semi-trucks in 2024.
As part of National Truck Driver Appreciation Week, we sat down with two of our Safety Drivers – Maureen "Mo" Fitzgerald and Mickie Muller – for a brief interview to understand their stories and experiences driving autonomous trucks for TuSimple.
Interested in driving for TuSimple? Check out our careers page at https://drive4tusimple.com/.
---
Pictured from left to right:
Randy Redwine,
Mickie Muller,
Jason Luckett,
Mo Fitzgerald, and
Daryl De Los Reyes
How did you get started at TuSimple?
Mo: Almost three years ago, I was working as a driver for a construction company when I came across an advertisement TuSimple had posted for a "test driver." I decided to respond, went through the interview process, and started a month later. At the time, there were only seven drivers at TuSimple, including myself. I remember sitting in one of the buildings when it was still empty and someone saying, "one day you're all going to be really busy." Well, look where we are now!
Mickie: I joined about six months after Mo started. I was driving for a less-than-truckload (LTL) freight company and had a delivery to make at TuSimple. So there I was, backing my truck into the lot, when I realized Mo was watching me — as it turns out, I was in the way of her truck! When I finally parked, the first thing Mo asked was whether I'd be interested in joining TuSimple. Everyone was so welcoming during the recruitment process, and that really helped me get off to a good start.
Can you tell us about your role as a Safety Driver at TuSimple?
Mickie: We work on a shift-based schedule. I typically work the morning shifts, so I get assigned my "mission" the night before each shift. A "mission" could be anything from a test run in the Tucson area to a demo run for a potential customer. On each "mission," I typically have a Safety Engineer, or as we call them the "right seater", riding with me in the truck. It's a contrast from normal trucking routes, where the driver is typically alone for several hours.
Mo: Being a Safety Driver is actually a very collaborative endeavor. Together with our Safety Engineers, we're providing critical feedback as part of an iterative feedback loop to enable the trucks to become the best drivers out on the roads. The engineers are respectful of our knowledge and experience. When they ask for feedback on how the truck is driving, they listen to every word we say.
Mickie: Besides spending time on the roads, we also get to work out of the terminals, such as moving trucks to departments who need to work on them, and learning about the technologies that enable the autonomous driving capabilities of our trucks. There's so much to learn, and everyone is always willing to help.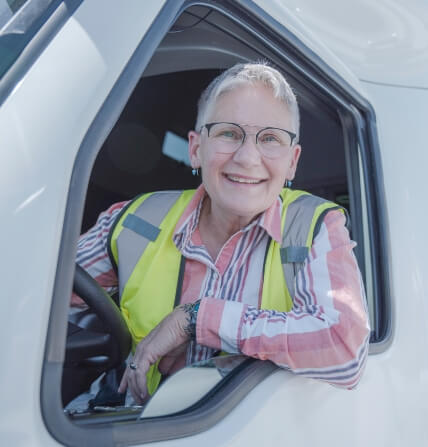 ---
Mickie Muller in one of TuSimple's autonomous trucks.
Mo, you've also had the opportunity to train our new Safety Drivers. What is that experience like?
Mo: The opportunity to become a trainer came up about a year and a half ago. I raised my hand right away! Essentially, I train our drivers on how to operate our autonomous driving systems, through classroom instruction, as well as in the truck. It makes me proud to see the results of my training — to be able to tell my fellow drivers they're doing a good job.

---
Mo Fitzgerald in one of TuSimple's facilities.
What has been the most surprising thing about your autonomous driving experience?
Mickie: I remember the first time I sat in the back of a truck and thought to myself how amazing it was to watch a truck operate without a driver's inputs — and also realizing that it was the product of a company-wide effort. As a Safety Driver, it is an honor to get to watch the team's hard work come to life, and help them test the product in real-life conditions every day. It is really exciting to see and experience first-hand how quickly autonomous driving technology is advancing.
Mo: The complexities of how an autonomous truck moves is fascinating as well. For instance, a truck doesn't turn like a passenger car; it needs a lot more room to turn safely. It also needs to keep a safe distance behind other vehicles. Since I became a Safety Driver, manual driving isn't quite the same for me anymore. For example, a human truck driver will need to divide their attention between watching the speedometer, staying within the highway lanes, and keeping an eye on the vehicles around the truck. An autonomous truck can do all of that, leaving the Safety Driver free to observe the bigger picture.
What motivates you to come to work at TuSimple every day?
Mickie: Transforming the trucking industry and making it a better place. We're helping to build technologies that will enable drivers to spend more time at home, make our roads safer, and deliver freight much more quickly.
Mo: For me, it's both that and a personal form of motivation — getting to work with Xiaodi (our co-founder and Chief Technology Officer) and the team to help realize their dream of making autonomous trucks a reality. I know my experience, along with our team of Safety Drivers, will advance our goal of making our trucks and autonomous trucks the safest vehicles on the road.
What advice would you give to someone who is interested in joining TuSimple as a driver?
Mo: Even though you might not be "technically" driving manually in an autonomous truck, you still need to enjoy driving to excel as a Safety Driver! As a Safety Driver you finish every day with a feeling of accomplishment that you are making a significant difference.
Mickie: Don't be afraid about what you might not know! There's nothing here that you can't handle, as long as you have an open mind, good communication skills, and a desire to learn. The entire team at TuSimple is incredibly supportive and invested in your success. Remember, the truck is learning, and so are you.
Interested in a Job at TuSimple?
Explore our truck driver jobs or browse through all TuSimple jobs. Help improve the safety and efficiency of the trucking industry with a team of driven and passionate individuals. Join TuSimple and change how the world moves.
Posted by TuSimple